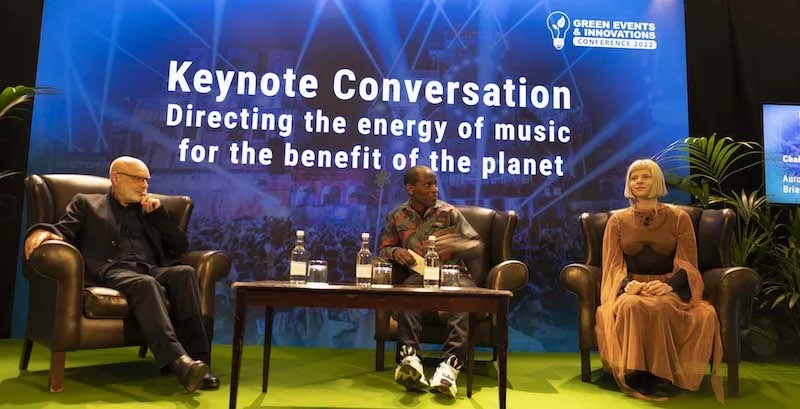 GEI15 Keynote: Music as a social synchroniser
Brian Eno and Jacob Collier Keynote at Green Events Innovations Conference – The Green Events and Innovations Conference (GEI15), the foremost conference for sustainable events is delighted to announce the renowned musician, producer and visual artist Brian Eno will be joining the event for a special Keynote Conversation with Grammy award-winning artist Jacob Collier.
Brian Eno returns to GEI after taking part in an inspiring talk with Norwegian pop artist Aurora last year on 'Directing the energy of music for the benefit of the planet'. This year, he and Jacob will be exploring the concept of 'Music as a social synchroniser' for the 15th edition which will take place on the 28th of February 2023 at the Royal Lancaster Hotel, London.
The unmissable conversation will see the artists explore the social function of music and how it changes us, how it offers a local counterpoint to the big things happening in the world and why it is so essential in a community. The whole question of where music comes from, and how it arises not just from the minds of individuals, but from whole societies, traditions and living ecosystems, is a way to also connect it to the big question of the climate crisis and music's response to it.
GEI 15 brings together leaders and innovators in the global live and events sector to network and accelerate environmental and social best practices, and to inspire collective action in the fight against climate catastrophe. Sessions will cover events adapting to climate change impacts and risks, transport, energy, food & beverage, academia working with industry, calculating, reducing and removing CO2 emissions, climate justice, design & materials usage for circularity, green innovation technology, and more. The event closes with the International AGF Awards celebrating achievements of the greenest festivals, venues and events in 2022.
Join pioneers, activists and leading collectives in the space of greener events, festivals, tours, venues and entertainment, to tackle the key questions in an industry in the midst of transformation.