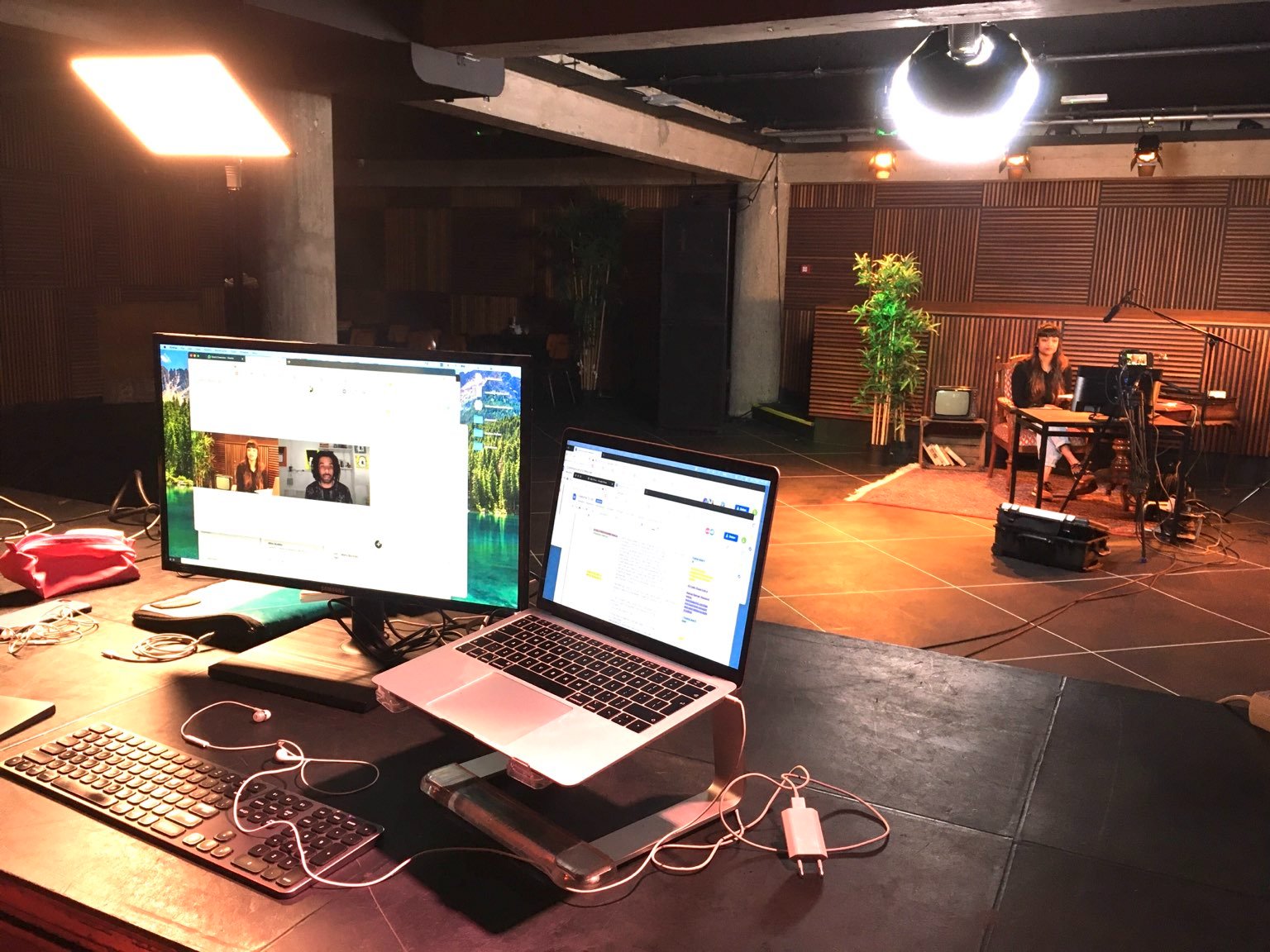 Webinar recap: from intention to impact – steps for a diverse and inclusive festival culture
As festivals are a unique melting pot of industries, bringing together the creative arts, hospitality, music and the events industry, they have the power to foster social inclusion, artistic promotion and cross-cultural fertilisation. Despite this, many festivals fail to represent the diverse reality of society. Read more about the difference between diversity and inclusion here.
The webinar was organised as a way to create a knowledge-sharing moment and kickstart this necessary conversation around D&I in the festival sector. It was a great opportunity to bring different stakeholders and audiences together and offer new perspectives on a complex subject. Hosted by Shambhavi Bhat, with 200 attendees signed-up, joining in from all over the world, there was great interactivity with the speakers through audience polls and questions. We were joined by 40 different international festival organisers and events professionals, as well as artists, researchers and D&I experts making up the rest of the audience.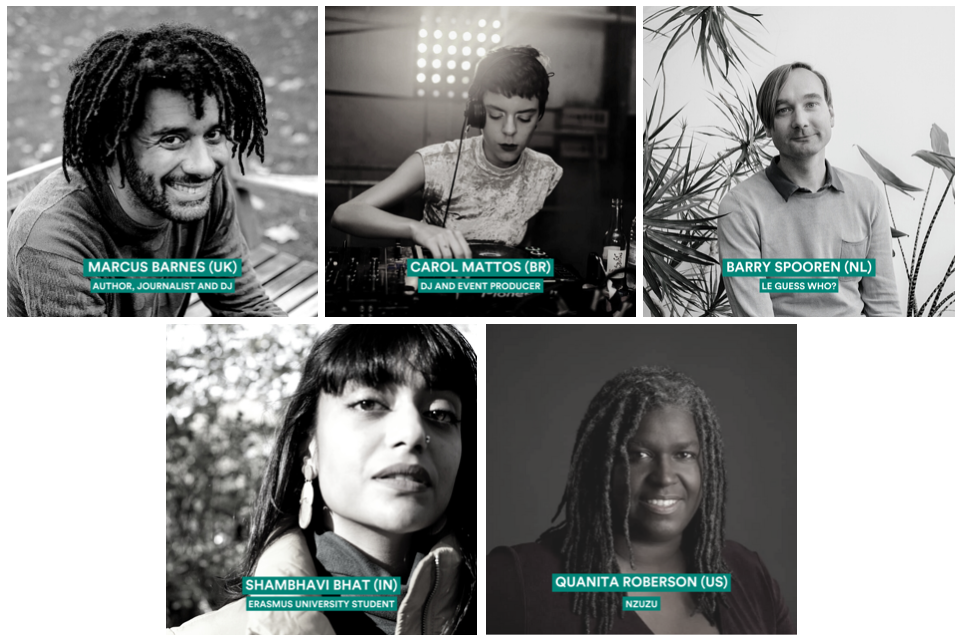 Would you like to rewatch the webinar? Sign-up here
1. Embodying Diversity and Inclusion

 Joining us in the early hours of the morning from Cincinnati, Ohio, was Quanita Roberson (author, entrepreneur, coach and D&I expert),  to kick off the webinar. Using her background in Organisational Management and Development and lived experience of being an African American woman working in this field, Quanita introduced the central tenets of the subject. She spoke about the different meanings of the terms 'diversity' and 'inclusion' and how people, and organisations, can work to embody these terms, starting from the inside out. Through her company Nzuzu, she coaches individuals and organisations through this process and shared key insights from her experience.
As a specialist in dealing with embedded trauma and grief, Quanita described the process of how organisations themselves must find a way to deal with their own organisational grief as a way of moving forward. The term 'organisational grief' resonated with many of the audience as something new to delve deeper into. As D&I initiatives can lead to many uncomfortable truths, she spoke of how individuals must first reckon with these truths within themselves if we are to be authentically diverse and inclusive in our organisations. This discomfort, she says, is a natural and necessary step in this process.
In response to the poll, 'How far along are you in addressing this subject in your work/everyday life', it was encouraging to see that the majority of the group are actively trying to integrate it into their thought processes, while the rest shared that they are in the early stages of learning about it. As she reiterated, inclusion is a process and no matter how much work you may have done in dealing with it, there are always more lessons to be learnt because each individual is different and everyone deserves to feel seen, heard and valued. This is something that all organisations should strive to achieve for their employees and stakeholders.
2. Representation and Reshaping Festival Culture

After undertaking a mammoth research project, Marcus Barnes (writer, journalist and DJ), who is based in the UK, shared with us the findings of his analysis on the levels of diversity and representation within 34 of the world's biggest dance music festivals. The research project took shape after last year's BLM movement began and the conversation around diversity, and particularly appropriation, in the electronic music scene was at an all time high. He shared where and how he feels the festival industry can move forward from here and why quotas may not be precisely the best method to achieve inclusion and equality. Ultimately, he believes that the best way for festival organisers to be more progressive is to put their egos aside and listen to what artists and audiences are saying.
Source: https://www.beatportal.com/beatport-news/race-representation-and-reshaping-festival-culture/
His findings showed us that line-ups across the world are still very white and male dominated and that ethnic minorities are not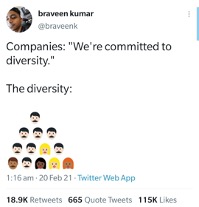 only underrepresented but are missing out on the opportunity to inspire other discriminated artists and younger audiences. "Diversify your diversity" was a key takeaway from his article and discussion. He suggested that festival teams must first deal with their own unconscious bias and understand how that may play a role in affecting their line-ups. It is no longer acceptable to only programme the same big names in the name of marketability when there is so much diverse talent in the world. We just need to look harder, take risks and trust in lesser known talent as a way to reach equity.
We shared this image and reflected on the answers to the poll, 'Does this describe your organisation or teams you have been a part of?'. Most shared that their teams looked similar to this, whilst the rest stated they were less diverse than that. Of course, this image only showcases visual diversity, which is only the tip of the iceberg, as shown in this image here: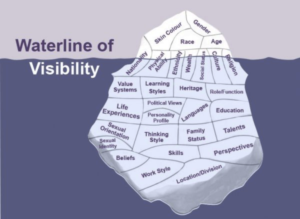 Supported by his experience as an author, journalist, copywriter, DJ and tastemaker with over 15 years experience in print and online, Marcus guided us through a reflection on the reality of many major festivals across the globe. Besides his writing, public speaking, and mentoring, Barnes is also an advocate for self-development and mental health awareness.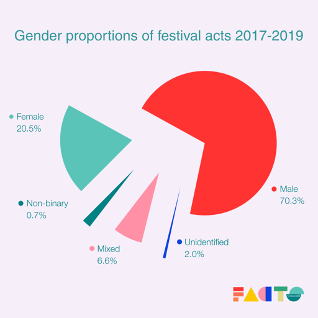 Source: FACTS Survey 2020 – https://femalepressure.wordpress.com/
3. Connecting Programming and Audiences Through Inclusive Communication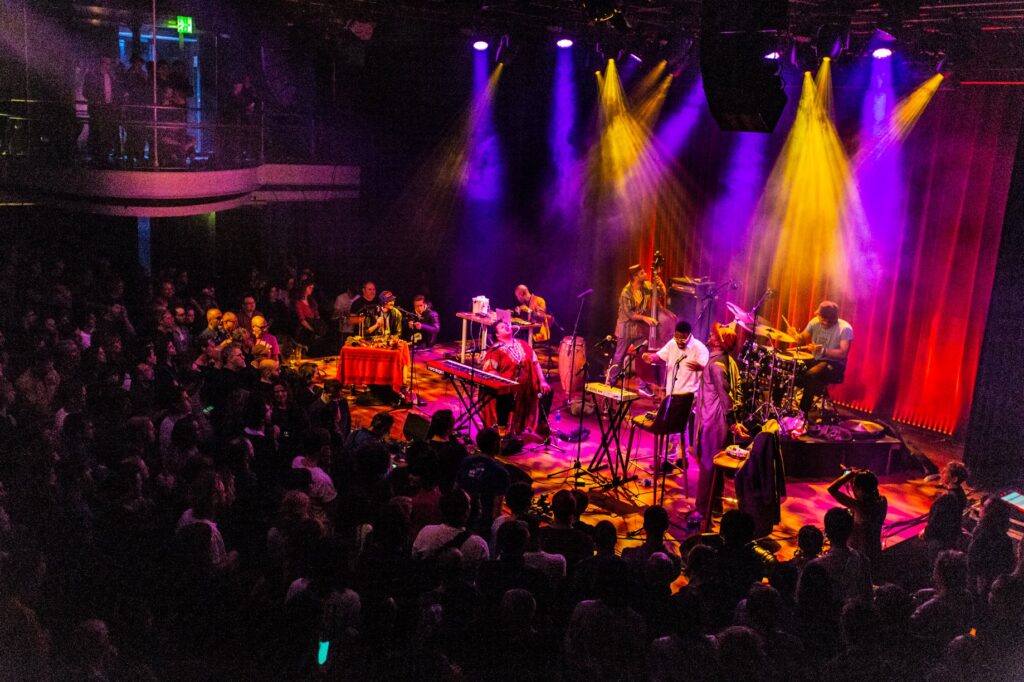 Angel Bat Dawid & The Brothahood live Le Guess Who? 2019 – photo by Erik Luyten
Based in Utrecht, The Netherlands, Le Guess Who? is a festival for boundary-crossing music and culture from all over the world. Throughout the years, Le Guess Who? has grown to become a leading international festival, known for its inspiring presentation of genre-challenging music. In 2019, they had artists and visitors from 61 countries take part in celebrating the festival. Barry Spooren (Head of Marketing and Communication at Le Guess Who?) talked us through the process of developing their international audience over the years, which mainly began with diversifying their programme in 2014.
In 2014, the team started to reflect on the diversity in the festival and decided to invite guest curators to bring in new perspectives and ideas. As guest curators are chosen from different disciplines, diversity was realised not just in the countries that were represented, but also in the genres and music styles. The festival works closely with the curators who take on a pivotal role in shaping each edition's identity. Barry also spoke about the internal, personal work that each member was dealing with, beginning with recognising their own biases and even working with third parties to facilitate this process.
The diversity in the programme then trickled down into their audience. Using innovative and inclusive communication strategies, Le Guess Who? has been able to attract and retain a truly global audience. Initiatives such as Reports from Other Continents have served as a way to connect international artists and audiences through the pandemic and keep them engaged with the festival's activities.
An interesting discussion was had in response to an audience question about balancing environmental sustainability and nurturing diversity in a line-up. It was well acknowledged that being so international has a real effect on a festival's carbon foot-print. This is something Le Guess Who? are keeping in mind as they think about their future plans beyond the pandemic.
4. Feminising the Dancefloor and Creating Safe Spaces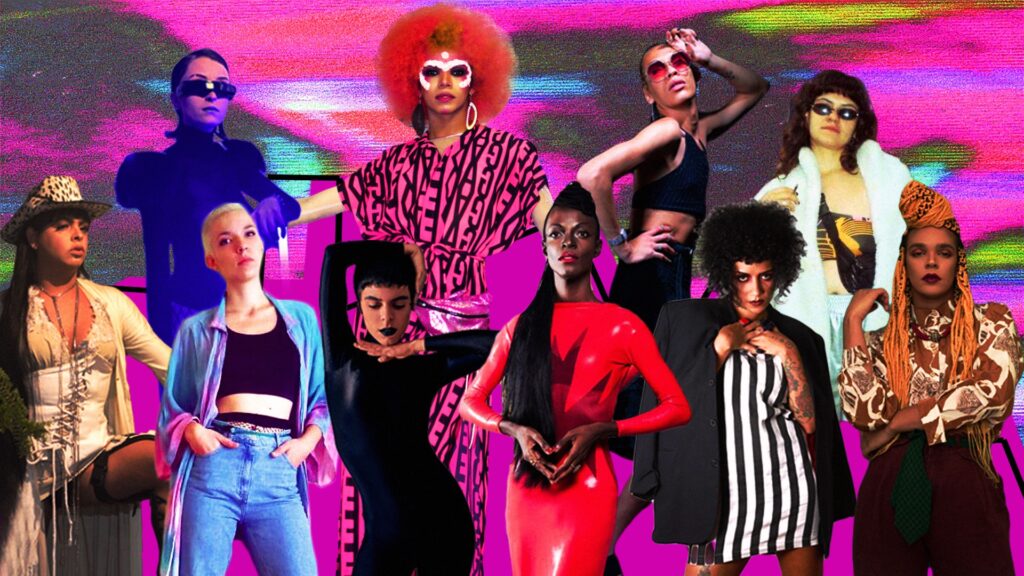 Carol Mattos (resident DJ at Mamba Negra, and event producer for MASTERp l a n o Collective and Sintetica) who joined us from São Paulo to share her experience and her initiatives to feminise the dancefloor and create safe spaces.
It was through her experiences as an event producer but especially as a touring DJ that Carol realised that women were present in the various collectives she played for, but that they were often in the shadows, away from the decision making, away from the headliners, away from the spotlight. She spoke about the various uncomfortable situations she experienced in these heavily masculine environments such as problems with technicians and harassment issues not being solved by the security.All these experiences as a female DJ and producer made her wonder: with so many high-skilled women in the scene, what would it be like if they occupied these important positions? This led her to create Sintetica, a 100% female collective.
Carol shared how much of a difference it has made, with women feeling represented by artists, feeling more comfortable on the dancefloor and not hesitating to go to the front of the line. Indeed, according to her, "creating a comfortable space for a woman on the dancefloor is creating a comfortable space for everyone".
By organizing a meeting with event producers and the audience on how to make the dancefloor safer for women, many ideas emerged, including the idea of a female security team. Carol introduced the work of Natalia Lancas, head of a woman-only security team in Belo Horizonte, breaking the stereotype that a security team must always solve problems by force. The work of this security team was presented above all as an educational tool, as it has put an end to the problem of harassment in the main electronic parties of the Belo Horizonte's scene.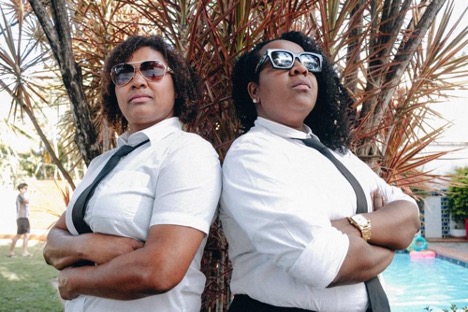 Natalia Lancas (right) and a colleague
 Accessibility
When discussing diversity & inclusion, we must not forget accessibility and the representation of people with disabilities. Organisations like Attitude is Everything in the UK, Possibilize and Marianne Dijkshoorn here in the Netherlands are working hard to partner with festivals to make their events more accessible but we still have a long way to go. We asked the audience when they last saw an artist with disabilities included in a festival line-up and unsurprisingly, most answered 'never', or 'once or twice'. This is unacceptable and must be addressed if festivals want to be truly inclusive.
More encouraging however was the response to our final poll, 'How are you feeling after this webinar?'Answers were split between feeling 'motivated' and 'reflecting', showing us that what we had set out to do had indeed been achieved: kickstarting a necessary conversation for the sector that we hope to continue in the future.
The Festival Diversity & Inclusion Toolkit
 The toolkit was created to spark an authentic conversation around diversity and inclusion within the European festival industry, and provide organisations practical tools to implement sustainable systemic change with the understanding that it is always context specific. The first step, for all of us, is acknowledging that inclusion is a process, one that is complex and challenging. We do not presume to know everything about the subject but we are committed to starting the conversation and learning along the way, together. In order to reach equality, the next step after inclusion, it will take acknowledgement that there is inequality, real action, collaboration, open hearts, open minds and the willingness to learn from mistakes. Based on the Code D&I's 4 P's, the toolkit is divided into following sections: Personnel, Programme, Partners and Public, with best practices and tools specific to the festival industry.
The webinar, From Intention to Impact: Steps for a Diverse & Inclusive Festival Culture was organised as part of a university project commissioned by Green Events with masters students Jean-Christophe Billaut, Shambhavi Bhat, João Infante Félix and Yuqing Song of Cultural Economics and Entrepreneurship at Erasmus University, Rotterdam. A multicultural group representing India, China, Brazil, France and Portugal, came together over the last 8 weeks to programme the webinar and create a comprehensive diversity and inclusion (D&I) toolkit aimed at festival organisers and events professionals. The Toolkit is designed by Kathryn Moy.  Please write to: difestivaltoolkit@gmail.com if you would like to get in touch with the students.

Thanks to our partners

None of this would be possible without the help of our amazing partners: Erasmus University Rotterdam, and our venue partners, Annabel. Annabel is the largest pop venue in Rotterdam, which is just a stone's throw from Rotterdam Central gave us a very warm welcome. A place where you can see international acts, from hip-hop to pop to electronic. The perfect place for different sorts of events from webinars to sport lessons. Their commitment to diversity also made them a great partner to host this webinar.