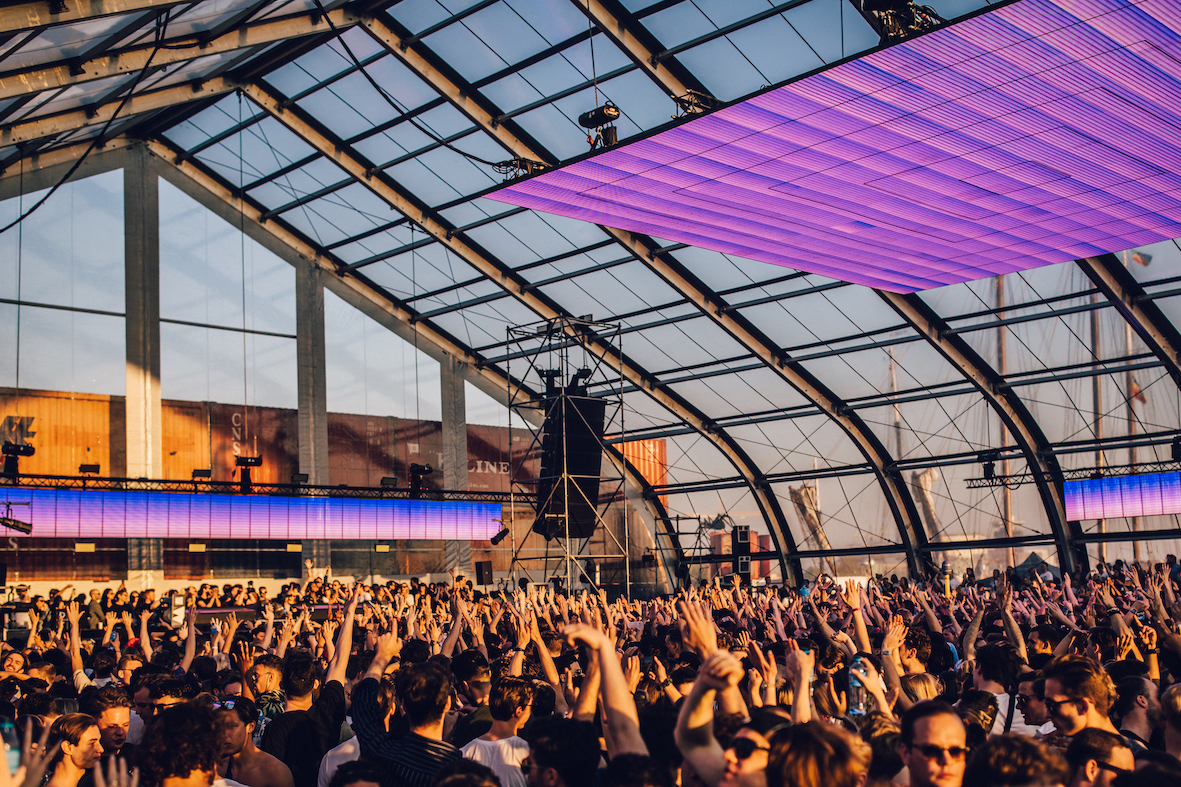 ADE Green: Free your festival from fossil fuels in 5 steps
Many events are optimizing their energy demand and switching from fossil fuels to renewable, clean energy sources. What do these renewable energy solutions look like today, and what will they look like in the future? And how can even more events steer towards becoming fossil-free? Prior to a panel on how we can implement and scale renewable energy solutions within the worldwide events industry, this article shines a light on renewable energy, and outlines five steps towards fossil-free festivals.
What's (re)new?
As the name suggests, renewable energy comes from natural resources that can be replenished over time. This includes energy derived from the sun (solar), wind, water (hydro and tidal), sustainable biomass and geothermal heat from the earth. These forms of energy are infinite and emit zero or very low levels of greenhouse gasses when used, unlike their fossil fuel and non-renewable counterparts, which include diesel, gas, Gas to Liquid (GTL), biofuels and nuclear. If you have followed the Dutch news, you'll know that nitrogen emissions harm natural areas, more so than carbon emissions. Festivals close to a Natura-2000 area have a strict limit on nitrogen emissions, requiring them to switch to renewable energy completely in order to keep their permit.
Pretty powerful
In 2023 many European festivals already run on 100% renewables, without compromising on quality, comfort and scale. These include Northside (DK), We Love Green (FR), Green Gathering (UK), Green Man (UK), Shambala (UK), DGTL (NL), Roskilde (DK) Paradies Garten Festival (Austria), Cruilla (SP), and even the mighty Glastonbury (UK) with a whopping 200,000 people in attendance. The old slogan 'Power to the people' just took on a whole new renewable meaning!
Step 1: Measure and Reduce Your Energy Demand
The first and foremost step is to eliminate unnecessary energy use. Unfortunately for the environment — and for festival budgets — it's pretty common to see generators running for nothing. If you understand and subsequently minimize the energy demand at your festival, you can ultimately optimize your power plan. Start by measuring the current energy usage at your festival through smart metering, or even better, predict it through smart planning. This lets you identify areas where energy consumption is high and could potentially be reduced. Festivals like Mysteryland, Extrema, and Shambala have successfully implemented this approach, slashing their energy use by an impressive 40%. They deployed diverse strategies such as the use of energy-efficient lighting and equipment, scheduling performances cleverly for less energy load, a smart combination of generators and batteries to peakshave, and raising awareness among crew about energy usage.
Step 2: Use Onsite Renewable Energy Sources
Energy is all around, also at your site, if you manage to harness it. Even when it is not around when you need it, you can store it in batteries for later use. Several festivals have set a precedent in this area. For instance, the Solarpunks created their own solar energy setup for a weeklong 48-person camp at Burning Man. Glastonbury, Melt and Paradise City took it a notch higher, deploying a massive solar panel installation for their festival's energy needs. Another notable example is the temporary Glastonbury Wind Turbine, which leverages the power of the wind to generate electricity. Another example is the partnership between MOJO (Lowlands) and Solarfields, who equipped the festival car park with 90.000 solar panels. Probably the most versatile of them all is the GEM-Tower, running completely on a mix of renewable energy sources: wind, sunshine, light and hydrogen.
Step 3: Get a Grid Connection
Another possible step is about drawing renewable energy directly from the grid. Several festivals, both big and small, have successfully made this transition. For instance, Northside festival in Denmark, both draw 100% of their energy from the grid. Even smaller festivals, such as Øya in Norway, have adopted this approach. Meanwhile, major festivals like Mysteryland (NL), DGTL (NL) and Roskilde (DK) have combined grid connectivity with batteries to peakshave, demonstrating that it's a feasible solution regardless of the scale of the event. However, it's important to acknowledge that establishing a grid connection involves collaboration with local municipalities and landowners, which is not an option for every festival.
Step 4: Expand with Renewable Energy generated off-site
You don't have to import diesel, you can import renewables as well. Innovative technologies such as batteries, e-fuel, formic acid, and hydrogen let you utilize off-site generated energy when local resources aren't sufficient. A prime example of this approach is the "Into The Great Wide Open" festival, occurring on a small island in The Netherlands. They swapped batteries successfully during the show in remote festival stages without grid-connection.
Step 5: Last Resort is (the Right Kind of) Biofuel
If steps 1 through 4 do not entirely fulfill your festival's energy demand, consider making your generators run as efficiently as possible. For example, combining batteries and generators results in a more efficient energy plan. Last but not least, switch any necessary fossil fuel to biofuel. This biofuel should be sourced from waste or residue so that it doesn't use valuable food resources. A successful example of this strategy can be seen with Nelonen Media Live (NML), which powers its 20 festivals with biodiesel. In 2023, NML made the substantial shift to biodiesel, demonstrating that a large-scale transition to sustainable energy sources is not just feasible but also advantageous for the environment.
Want to learn more about this topic?
Make sure to join the Fossil Free Festivals of the Future presented by Greener Power Solutions panel at ADE Green: Anna van Nunen (Greener Power Solutions) and three guest speakers will dive into 'hot swapping batteries' at Into the Great Wide Open, how a collaboration with local stakeholders helped Mysteryland to move towards renewable energy, and present a renewable mini-grid from Burning Man.
ADE Green features international keynote speakers, food for thought in combination with practical hands-on workshops and a range of panels. The conference takes place at Felix Meritis on Friday 20 October and is accessible with the ADE Pro Pass, or with the single-day ADE Green Pass. Since its first edition in 2012, ADE Green tends to sell out – so be sure to get your hands on a ticket before it's too late!
About Greener Power Solutions
This article is co-created with ADE Green's event partner Greener Power Solutions, a pioneer in the temporary energy market and the fastest-growing energytech in Europe.
Greener Power Solutions' mission is to provide emission-free energy everywhere. That way, they accelerate the transition from fossil fuels to sustainable energy sources and enable organizations to take action towards a greener future. They create the cleanest mobile power solutions possible. They integrate their rental battery fleet with other available (renewable) energy sources on site. What sets them apart is their in-house developed software, which optimizes even the most complex energy setups in both the planning phase and in real-time. This ensures that their clients always benefit from maximum efficiency and minimal environmental impact. They provide a complete service, including fast delivery and installation, remote monitoring and control, and dedicated 24/7 technical support. Their Greener dashboard allows clients to easily track energy usage, CO2 savings and diesel reductions.