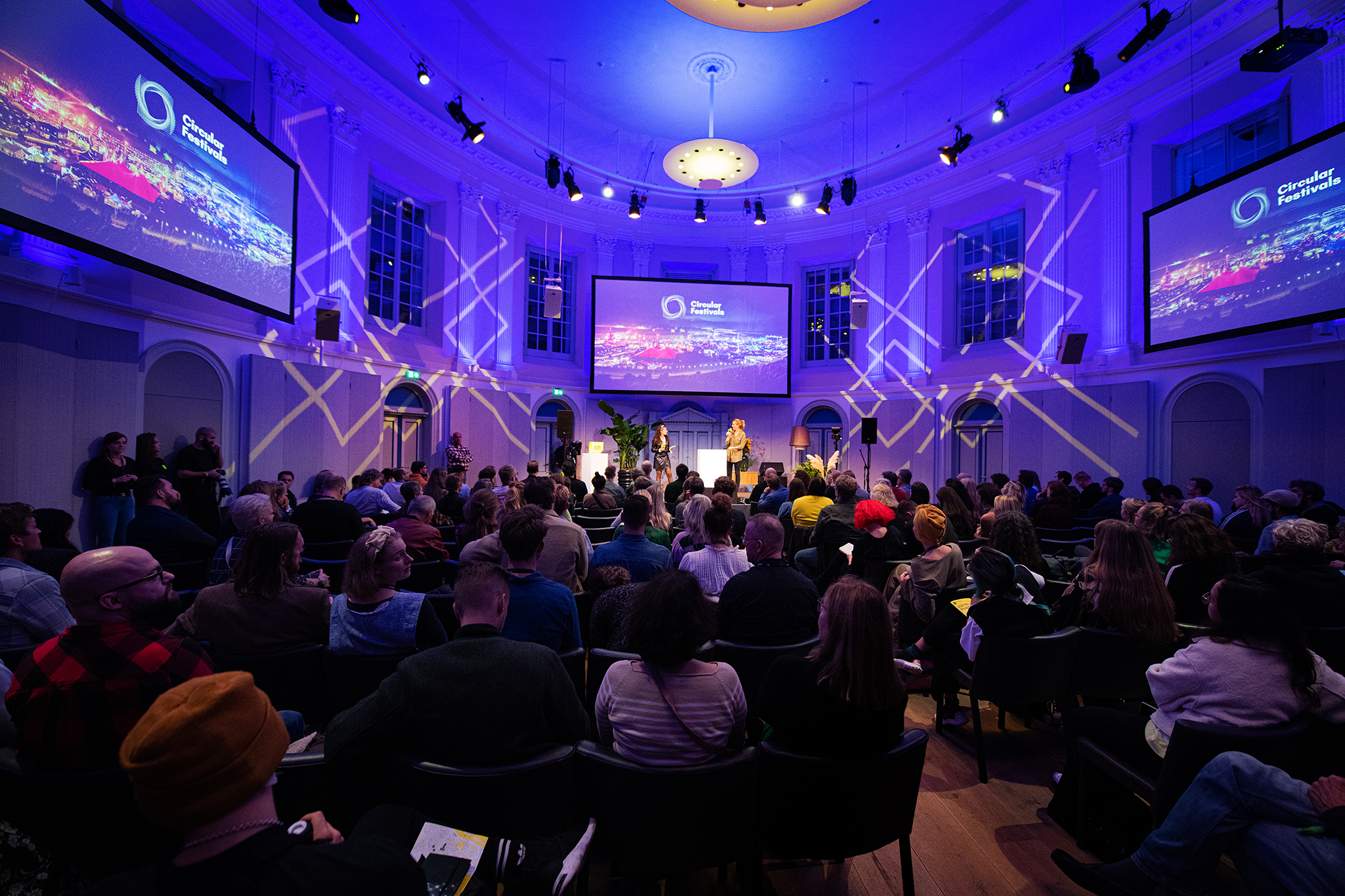 Program reveal: What's on for ADE Green 2023?
With October fast-approaching, it's about time for a first glimpse at the program for ADE Green 2023. This year, the sub-conference returns to Felix Meritis with 14 compelling programs surrounding energy, circularity, mental health, water, plastic waste, storytelling, leadership, co2 compensation, innovation and renewable materials. Dive into the first eight programs – the full roster is complete in a few weeks, so stay tuned! Small tip: since its first edition in 2012, ADE Green tends to sell out – so be sure to get your hands on a ticket before it's too late!
These are the first ADE Green 2023 programs
Effective storytelling for positive change
Ella Saltmarshe, DJ Juba
The opening keynote of this program discusses the power of storytelling in influencing social change in the music industry. Expert storyteller Ella Saltmarshe presents her approach to systemic change through hopeful narratives. The ensuing panel discusses reframing climate crisis and social issue narratives to be more inspiring and actionable, and gives attendees tools for using music and events to inspire a better future.
Carbon offsetting: how and when to do it
Dr. John E. Fernández (MIT), Julie's Bicycle, A Greener Festival, Climate Cleanup Foundation
This workshop explores the complex issue of impact offsetting in the music industry, discussing when and how to best offset unavoidable climate impacts. With the help of sustainability experts and real-life examples, the session aims to provide clear, practical guidelines for offsetting emissions from events or tours. It answers questions about the viability of offsetting, methods to measure and quantify impact, and existing offsetting programs.
Workshop: Green Deal Circular Festivals
Green Deal Circular Festivals, Ministry of Infrastructure and Water Management, Green Events
The GDCF is a collective of 44 festivals from 14 countries aiming for complete circularity by 2025. They've developed a model for sustainable planning that could serve as an industry-wide benchmark. This interactive workshop is targeted at event professionals, festival organizers, and sustainability managers, helping them to tackle their own organization's most pressing challenges in achieving circularity and climate-neutrality.
Bamboo is booming
Atelier One, BambooLogic, Nachtlab Agency
Bamboo is quickly becoming a crucial building block in Europe's events industry, both as a sustainable construction material and as a carbon-offsetting crop. This program examines bamboo's potential impact on scenic design and the industry as a whole – and its regenerative potential. Panelists include a structural engineer who's built the world's largest bamboo structure, a European bamboo farming company that collaborates with festivals, and the architect of this year's bamboo stage at Boom Festival in Portugal.
Innovation Showcase: Innofest's Impact Start-Ups of 2023
ChefChain, Emit IT, Renset, Toopi Organics, Ozarka

Innofest's top five impact startups of 2023 address pressing issues like carbon footprint, waste management, energy supply, and event accessibility. The startups have proven their impact and offer opportunities for festivals to innovate and promote sustainability – come meet these entrepreneurs and learn more about impactful event innovations.
The Heart of Leadership by Mac Macartney
Mac Macartney
The current era demands leaders who act for the greater good, demonstrating unity of mind, body, and spirit. Mac's talk explores a new form of leadership – authentic, powerful, and rooted in historical resilience. It's about individuals who find their calling amidst challenges, exemplifying vision, courage, discernment, and compassion. This keynote is ideal for creatives, thinkers, and future leaders of the electronic music industry.
Invite-only sessions: city innovation and campsite waste
City of Amsterdam, Plastic Promise
ADE Green is the place where industry pioneers come together – this year features two industry meet-ups. In the 'Kick-off: Innovatie Estafette', the City of Amsterdam will discuss the role of events as a catalyst for scaling up innovations with organizers and other stakeholders. In the 'Roundtable conversation: tackling campsite waste', Plastic Promise brings together experts and retailers to explore opportunities for collaboration.
ADE Green features international keynote speakers, food for thought in combination with practical hands-on workshops and a range of panels. The conference takes place at Felix Meritis on Friday 20 October and is accessible with the ADE Pro Pass, or with the single-day ADE Green Pass.
ADE Green Organising Partners
Amsterdam Dance Event, Green Events, and Nachtlab Agency.
ADE Green Event Partners
Circular Festivals, City of Amsterdam, Dopper, Greener, Innofest and Plastic Promise.
ADE Green Ambassadors
A Greener Future, Awakenings, Beyond Meat, Julie's Bicycle, Life Terra, Mysteryland, Q-Dance, VVEM, ZAP Concepts.