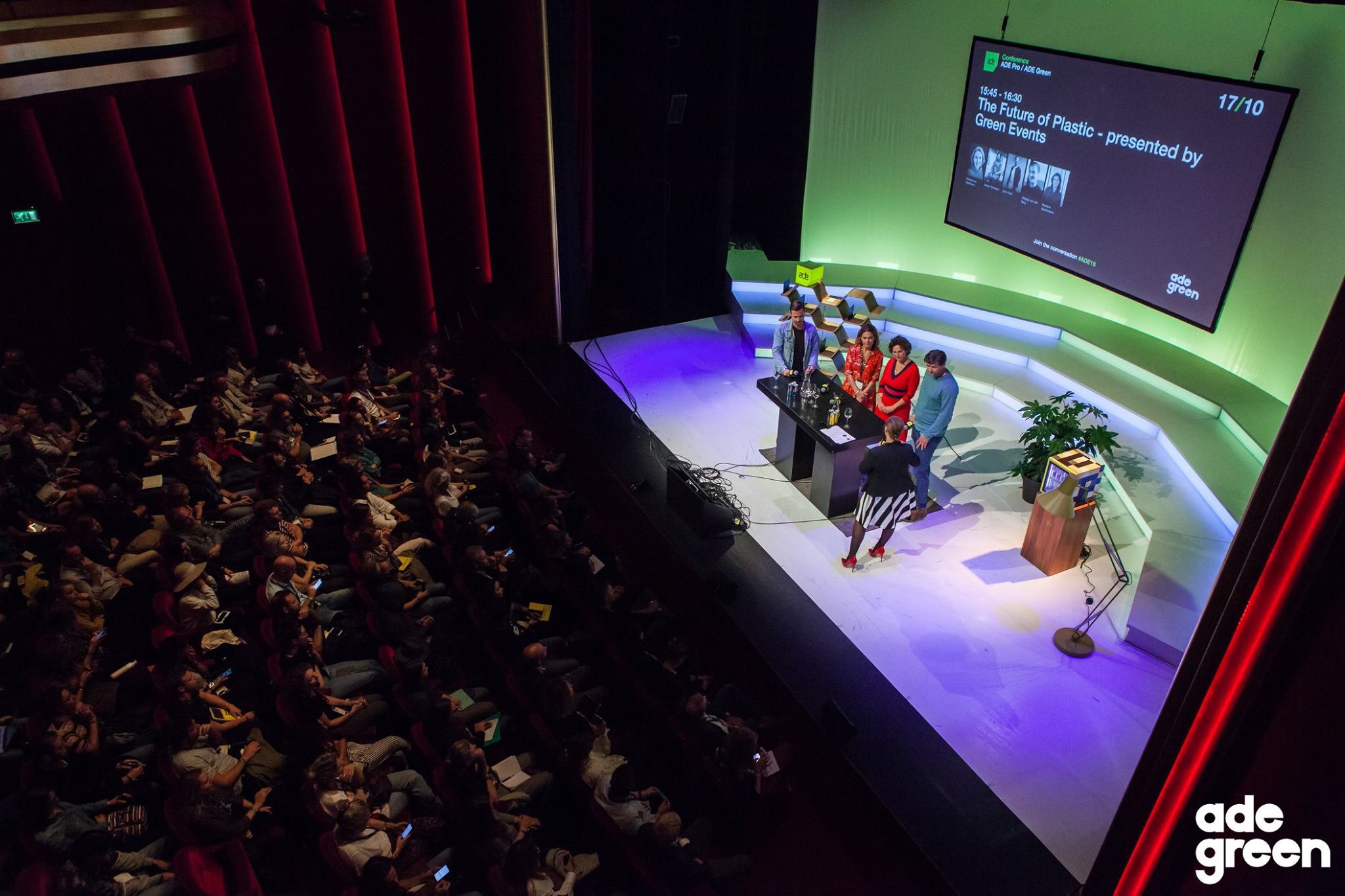 Sneak preview: the program for ADE Green 2022
On Friday October 21th, we can finally welcome you again to a real, live edition of ADE Green, the pioneering conference on event sustainability, innovation and social change. 
With so many pressing issues in the events industry and in society at large, we are stoked to meet up with all of you once again, share new insights and discuss how to move things forward! Now, without further ado, here are the highlights of this year's program.
How the music industry needs to start a cultural transformation
With its global reach, the electronic music industry can unleash imagination and passion like few other industries, potentially guiding its audiences towards a climate-friendly future. What this future looks like and why it is urgently needed is addressed in a keynote speech, after which we'll dive into three different angles: that of the artist, the festival manager and the record label. Sally Freeman (moderator) facilitates the conversation with Norhan Bayomi (Electronic Music Producer), Anna Johnson (Environment Officer at Involved Group) and Rob van Wegen (Sustainability Supervisor at Eurosonic Noorderslag). Last but not least, Luke Howell (Founder Hope Solutions) shares the state-of-the-art use of green energy in Coldplay's new tour, demonstrating how artists can step up their game with sustainable solutions for our industry, and far beyond.
Innofest: The innovators that keep the events industry sustainable! 
Innofest enables green entrepreneurs and innovative businesses to test their new products at festival sites – and now, the five most promising startups of 2022 with the goal of festival sustainability will present their innovations: circular organic waste removal tested at Welcome to the Village in Leeuwarden, a mobile power supply without any emissions tested at Bevrijdingsfestival Utrecht, a non-picky recycling machine tested at Lowlands, integrated solar panels in building fences and an online service to verify ingredients with blockchain technology. If you're after new ways to make your event, festival or business more sustainable, then be sure not to skip this part of ADE Green.
Workshop: How to grow a transformative mindset 
To combat the impending climate crises, we put all our focus and energy into solving today's problems with today's solutions, but we're missing the bigger picture: including future challenges and opportunities. How can artists and music industry leaders best respond to this existential threat, using emotions and creativity to drive change towards a thriving world? In an interactive workshop that builds upon the latest climate science, climate psychology and emergence theory, Laureline Simon (founder of One Resilient Earth) guides you towards growing a transformative mindset, in order to respond to the ecological crises through regeneration and transformation. By learning about regenerative resilience and doing various exercises together you will tap into new ways of transformative thinking.
Panel on reusable foodware solutions
Single-use plastics are a global environmental threat, and we need to move towards circular systems where products and materials are designed for reuse. But how? In this panel, event expert Tijl Couzij (Into The Great Wide Open), artist movement leader Camille Guitteau (Bye Bye Plastic) and future-proof packaging researcher Alan Campbell (LCA Centre) will share their knowledge about upcoming plastic policies from the EU, using reusable food tableware at festivals and how to employ the power of music to say goodbye to single use plastics. 
How to support an artistic activist?
What happens when activism and artistic expression come together? What can we achieve through it and how can artists, activists, festivals and brands work together? This session starts with the story of Alina Minkova, born in Russia – now living in Sweden. From her personal experience, she shares why artistic activism is one of the last resorts for expressing ideas in an authoritarian country. She shares recommendations on how to safeguard the security of both the supporter and the activist. We continue with the story of Louise Lindèn who founded the pioneering sustainable music festival LiveGreen when she was 18 years old. She now co-organises Climate Live concerts. In 2021 it gathered 12.000 people in the centre of Stockholm and 250.000 online with the goal of giving young activists a new platform, while keeping climate justice high on the political agenda.
Workshop Circular Event Management 
As festivals grow larger and louder, organisers are aiming to get the most out of their valuable resources. Circularity provides a sustainable answer, and the closed systems of festivals are the perfect environment to develop future-proof solutions. Implementing efficient ways to manage food, energy, sanitation and materials reduces any festival's footprint and helps it flourish year after year. In this hands-on workshop, Mitchell Van Dooijeweerd (Revolution Foundation) paves the road to full festival circularity, showcasing the implemented roadmap towards a circular DGTL 2022. 
​​New European Circular Festival frontrunners
In this program a group of new European frontrunner festivals will officially join the community and sign the international Green Deal Circular Festivals. Among others Amsterdam Dance Event, Awakenings, Welcome To The Village, Oranjebloesem, Komm schon Alter, Georgie's en Lago Lago, Castlefest (The Netherlands), Boom (Portugal), Exit (Servia), Oya (Norway), Paradise City (Belgium), Pohoda (Slovakia) and Sziget (Hungary) will be present on the ADE Green mainstage. Together with several festival organisers who are already part of the Green Deal and Vivianne Heijnen (Minister for the Environment The Netherlands), they will share their vision on how to become circular and climate neutral.
ADE Green Organising Partners
Amsterdam Dance Event, Green Events, and Nachtlab Agency.
ADE Green Event Partners
Dopper, Gemeente Amsterdam, Handicap NL, Inno Quarter, The Ministry of Infrastructure and Water Management, MOJO, and Paardenkooper.
ADE Green Ambassadors
Awakenings, DJs for Climate Action, Festival Sustainability Lab, Future Festival Tools, Gemeente Haarlem, ID&T, Innofest, Julie's Bicycle, MTD, MyZap, Plastic Promise, Q-Dance, Rijkswaterstaat, VVEM, and Your Productions.