A delicious Dish within the Limits of the Earth
When it comes to measuring the CO2-impact of an event, food is often excluded. Perhaps because it is quite complex to quantify the impact of all the different meals served, with their big variety of ingredients. Luckily two start-ups have emerged that enable their caterers to measure and lower their CO2-impacts: Giant Leaps and CarbonAte. In this interview with Maartje Nelissen, co-owner at The Food Line-up tells you all about their learnings and challenges regarding the CO2-impact of their dishes, which were served in the Brasserie 2050 a collaboration between Rabobank and Lowlands Festival.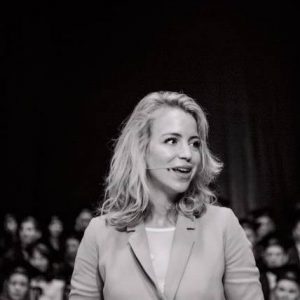 What can you tell us about the Brasserie 2050?
In 2050 the population is estimated to have grown to 10 billion people. In the face of climate change, that leaves humanity with a tremendous challenge: How are we going to feed everyone, within the means of our finite planet? This is only possible if change how we grow, produce and consume our food. At Lowlands Festival, Brasserie 2050 served possible solutions, literally. Every dish on the menu was linked to a global food-related challenge, like biodiversity, climate change and zero waste. We measured the CO2-impact of every dish, compared it to the traditional version of the dish and put it in the perspective of the One Planet Plate concept. We served these dishes from a sustainably produced and completely reusable barn. It featured a high-tech vertical garden, tables from recycled plastic and compostable waste system. Its inviting design let everyone join in for a communal meal and a chat about the future. After all, food connects us all.
What's this One Planet Plate concept you speak of?
Keeping in mind that our global food system accounts for 20% of all CO2 emissions, then what would be the CO2 impact limit for one dish? Together with researchers, the Swedish WWF has calculated how much greenhouse gases a meal may emit in order for us to limit global temperature rise below 2 degrees and feed all world citizens. The outcome is 0.4 KG CO2 for breakfast and 0.5 KG CO2 for lunch or dinner. This concept is called One Planet Plate. It is a clear way to make people aware of what their daily CO2 budget for food is and how far over they actually are. Sadly, the reality at the moment is that most people are over that budget every single day.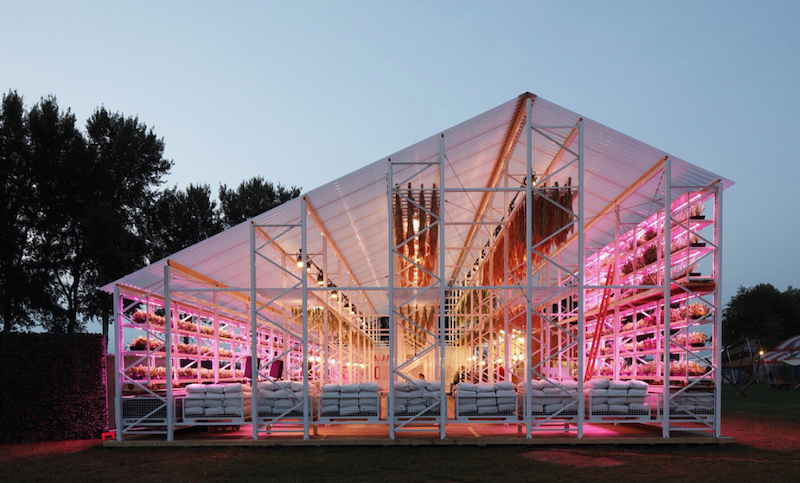 How did you calculate the CO2-impacts of your dishes and what did you learn?
They're calculated with the GiantLeaps impact tool. The ingredients are sourced by The Food Line-up and GiantLeaps matches these with products in their database and does additional research where possible. The calculations are based on life cycle assessments and take into account production, growing, transport food loss along the value chain and seasonality. Working in food and sustainability, you basically know how to lower your impact. But working with a tool like this, you can really see the difference that some choices make. Our 2050 dishes have an impact that is up to 75% lower than the original traditional dish. This number is a lot higher than expected.
To all caterers out there, what is the easiest way to lower their C02-impact?
I have 3 simple tips. First of all, go plant-powered. Vegan is where the future is. It sounds alternative now, but it should become the standard. Just like the 80/20 principle of Dutch Cuisine, where animal products are no longer the main staple but the special seasoning of a dish. Secondly, out-of-stock is okay. We know this might sound harsh to caterers who always want to treat their guests to the max. But in a world where resources are finite, it is actually ridiculous to always have everything available, even if it's out of season, and let leftovers go to waste. So we consciously make sure that perishables run out at the end of the event. And last but not least, smarten up your menu to combat food waste. We work with many food suppliers who deliver ingredients that would otherwise be thrown out. For example, we serve cauliflowers that would never be sold in the supermarkets due to their odd shape. Personally, I loved how we used the whole cauliflower, including the leaves that were fermented until the stump.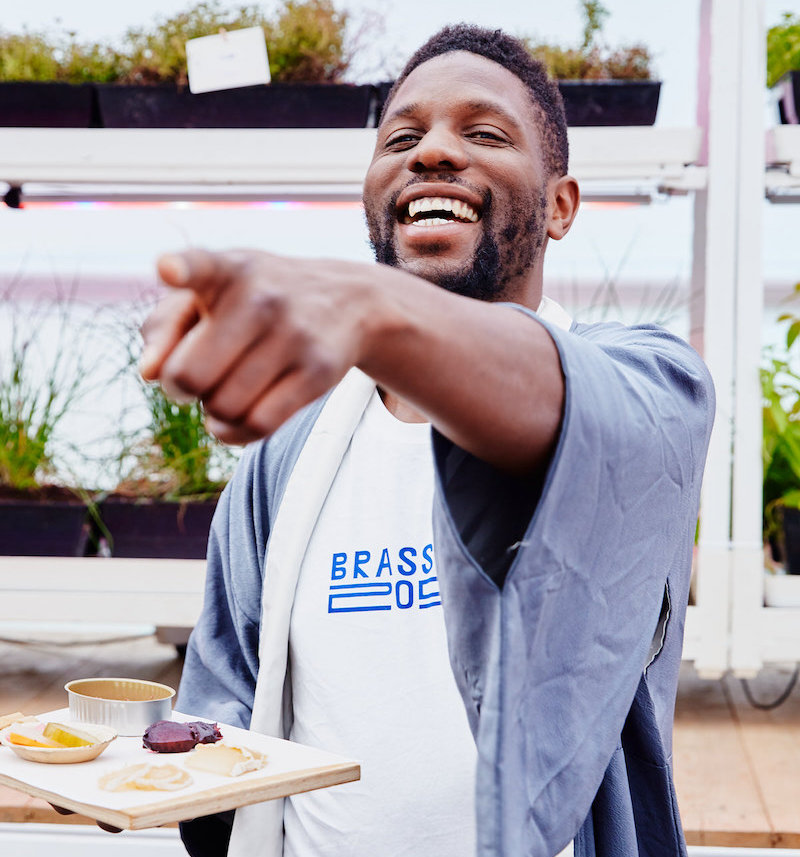 What do you envision in ten year's time, what does the festival menu look like? 
I really hope that the exception has become the standard. Consider the radical change of just this small step: A menu that indicates which dishes are non-vegan, instead of the other way around. Furthermore, I hope we have regained our pride in local farming and that local food systems connect to their waste streams for an increase in circularity. Fortunately, we see an increasing number of festivals and caterers that are eager wo make a difference. 2014 was the first year a major Belgium festival switched to a 100% vegetarian menu, and others followed. That's a fantastic step forward, but it's still important to have a critical look at what's still on the menu and why. For example, replacing a chicken dish by a version with buffalo mozzarella will only result in more emissions. We've found that you can make the biggest change by starting with issues that are close to your heart. Are you most worried about the climate, like we are? Then start with reducing your CO2-emissions and focus on local ingredients.
Besides Lowlands (NL), Roskilde (DK) and Shambala (UK) also experimented this year with apps to calculate the carbon footprint of the festival dishes, and challenged themselves to create dishes with a lower CO2 impact and communicated this towards their audiences in different ways. In the panel "Food Impact powered by Rabobank" at ADE Green we will showcase their best-practice and talk about the insights and next steps to be taken in order to offer food to our audiences within the means of our planet.
ADE Green is the pioneering conference on sustainability, innovation and social change in the music industry and takes place on Friday October 18th at the DeLaMar Theater. Tickets can be purchased here.